It's the end of the week for many of you, so in advance yay for the weekend!!!! If you have to work tomorrow I apologize. I will not be posting tomorrow unless I decide to pay for Internet on my flight to LA!!!!! Andrew and I CAN'T WAIT!!!! I'm DREADING going to stats class today because there is no way I will be able to concentrate. I mean, really. Would you be able to focus when you know you're going to see this little cuddly cutie tomorrow?!?!

So what are you wishing for this Wednesday??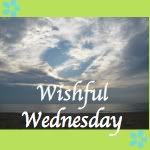 I'm wishing for a quick class, quick packing, and quick and safe flight tomorrow. What are my plans??? Sunshine, sunshine and more sunshine!

Weeeelllll to be more specific, when Andrew and I get off the plane we're going straight to Dodgers Stadium. Why? Why not! We love baseball and take any opportunity to check out ballparks! Plus we hear Dodger Dogs are the best. Then we'll hang out in LA for a bit before driving up to Camarillo to visit my sister, her hubby, and their gorgeous kiddo (see awesome pic above. Or
here.
Or
here
. Or
watch this
.)!!!!! Friday we will babysit a bit and possibly go to the outlets. Saturday we're going to the beach and I'm going to rock my black floppy hat. Sunday we're spending Easter in Santa Barbara! Monday we'll be back in LA visiting friends before our red eye flight Monday night. I'm not thinking about Tuesday. Or the next few weeks full of finals and papers and job hunting OH MY!
Anyway, I'm wishing this Wednesday that all of you have a Happy Easter weekend!