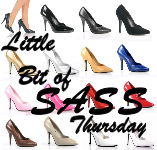 Ho Ho Ho!

First we'll start with some sparkle.


I love everything about this look. Both classy and sassy.
I don't even care that these would kill my feet.
Swoon. I just plain need this. And the body to rock it.
This would take entirely too much time and patience, but gosh darn it that's cute.
And now, for some funnies:
Brilliant. The gift that keeps on giving.
What? He does!
Merry Christmoose!


Giggle!
Teehee!
Bah, I love inappropriateness!
All for one!
Merry Christmas, everyone!! :)