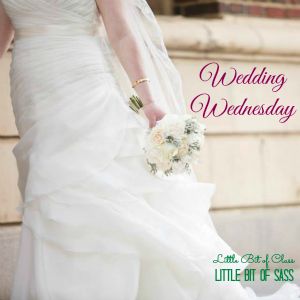 Happy Wedding Wednesday!
This week is allllll about the party.
And party we DID.
(Well, this week is the first part of the party. The rest of the party deserves a post on its own!!!)
Last week
we left off with the speeches.
After our meals and speeches the rest of the night was a blur!
...a blur full of laughter, happy tears and a whole lot of sweaty dancing!
Lots of photos, yet again! You were warned!!
(Unless otherwise noted, all photos are from
Starling Studio
)
(It's easy to tell which are from Instagram and which are from our photographer, though! Obviously!)
First of all, we cut some cake:
It was seriously delicious and what's better is that my friend from high school made it!
Then I ran around like a madwoman getting photos with certain groups of friends! Here is the order of how I know everyone, not necessarily the order in which they were taken:
Lifelong friends from my hometown:
Theta Nu/
Otterbein College
:
My first group of DC friends:
Georgetown friends (grad school):
My fabulously fun co-workers from my first job in Chicago:
(who I am so happy to call dear friends, too!):
...and many many many more photos with other small groups and individuals!
It was fun but quite stressful trying to get a moment with everyone we wanted to!
But don't worry, we had some fun, too :)
(This is honestly one of my favorite pictures of the entire day!)
After a while of waltzing, though, I was frustrated with how much I kept messing up. Plus, I was focusing on the steps more than the moment with my Dad, so I gave up and just hugged my Dad for the rest of the song:
I'm listening to the song right now as I write.
My Dad is the best :)
Sam Cooke's Nothing Can Change This Love
:
And then we boogied!!
Quick little aside:
Amid the hubbub my cousin surprised me!
My cousin Sam had just flown in from London that day, returning from his study abroad program. Only his parents and (I think?) siblings knew that he was planning to drive from Pittsburgh to the reception in Columbus! The whole extended family was so shocked! Two of Sam's buddies drove him from Pittsburgh so he could sleep off some of the jet lag! It was SO awesome that Sam was able to come and we were all so thankful to party with him!
I love that our photographer caught my moment of surprise, too:
Tommy Nutter of Diamond Entertainment
):
LOVE this:
And that's all for this week!
Next week I have a great post planned - it was a HUGE surprise to me and I can't wait to share!
Seriously. It's epic.
All non-Instagram photos from this post are from Starling Studio (you can tell which ones they are because they are beautiful photos!!!):
website
|
Facebook
.................................................................
Have a wedding story that you want to share? Please join the linkup!
All I ask is that you grab the button, link back to me and visit the other blogs!


Please share the linkup on social, too, if you wish!
@marysue20 is the name, #WeddingWednesday is the game.

I'm joining another linkup as well!