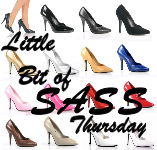 Howdy! So much has happened since my lazy Sunday. Here's a quick recap:
Monday I tried Jillian Michaels ab workout On Demand. Wowsah. I need to keep doing that. I yelled back at her through the TV. I think it helped. We're cool now, though.
Tuesday was a big day! First of all, I WAS HIRED!!!!!!!!! You're looking at a full-time employee! Big step up from my blog posts over the summer, eh? I contract through the end of the week and then boom. I get a salary. A-mazing. An impressively sizable group of co-workers joined me at the last minute to celebrate at a bar across the street from our office. Then I went to my first book club meeting! A group of ten fun ladies decided last Friday that we'll get together once a month to discuss a book while enjoying each others company and sipping beverages of choice. It was a grand time getting to know new girls and honestly just being in a group of girls again! Our first book is
Bitter is the New Black
by Chicagoan Jen Lancaster. I've read it before, but she is SO funny that I can't wait to read it again! We're hoping she'll attend our November outing! You better believe I'll sport pearls and a polo for that momentous occasion. There will be a photo on here too. She's seriously one of my favorite authors and inspires me to write. Oh! And after the book club meeting Andrew took me to a late and silly dinner to celebrate! He's so fun and sweet :) His cousin Daniela brought me some flowers to book club, too!
Don't the flowers look perfect on our mantle and especially in that blue vase?
Yesterday was also a fun day. After work I schlepped a big pumpkin about a mile up Lake Street to Andrew's office. I swear I put a smile on everyone's faces because really? Who carries a pumpkin around on a busy street? This girl does. Honestly I was terrified that I would drop it and have it splatter everywhere, including on me. I didn't want to get punk'd, if you will. Luckily I made it to Andrew's office without one trip or stumble! At his office I was showered with free candy, cheese, and beer. Yum! Then we trucked up to Lincoln Park for a pumpkin carving party! Andrew's good friends from MSU get together every year for carving, cider, and pumpkin seeds. It was a blast! Here's our creation:
Here's the group of pumpkins at the end of the night:
I thought ours was a pretty sassy rendition of a jack-o-lantern, don't you? We like to call it our pumpkin bucket, or pumpket. :) Stay sassy, my friends.