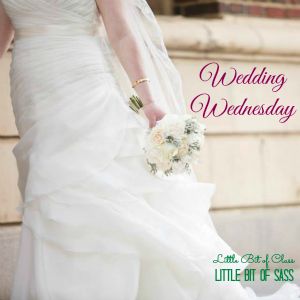 Happy Wedding Wednesday!
This is crazy to think, but I only have a couple more posts planned for this link-up.
Not gonna lie, I'm pretty sad about it, but I have stretched this content to the max, it seems.
For almost two years I have had a reason to blog, but once it's over I'm not sure of the future for my little space online. But that's another discussion for another day.
In the meantime, let's talk about the deets.
We put a lot of thought into everything, so please forgive the lengthy post! I could split this into multiple posts, but I wrote it all so I'm posting it, gosh darn it!
(Unless otherwise noted, all photos are from

Starling Studio

)
Let's start with the welcome bags!
As a wedding guest I love receiving welcome bags from the couple when I arrive at the hotel. It's so thoughtful to receive treats and Tylenol and water! We wanted to do the same for our guests and add treats from the area since many had never been to Columbus or Lancaster.
I made the letter and my parents got everything for the bags (they were SO amazing handling this!!!)
via
}
Here are some of the wardrobe details. I loved my simple accessories. You've seen the dress before, so I won't go on and on about that. The others deserve more explanation, though. The
garter is from Etsy
and I loved it! I personally don't like the garter toss at receptions, especially with family looking on, so I wore one but didn't toss one. Call me a prude, but I get creeped out by it! Also, check out the bracelets in the lower left. I got the bangle from Megan at my Pittsburgh Bachelorette and the thin bracelet is the same one that I got my bridesmaids when I asked them to stand up for me! My engagement ring is an heirloom, given to Andrew by his grandmother who wore it as her engagement ring, too! It's apparently from the 1800s! It's such an honor to wear it and I absolutely love that it's different from anything else I have ever seen! Our wedding bands were purchased in Chicago on Jewelers Row from a friend of a friend. We got a great deal and met a lovely jeweler on top of it!
Next up is the church, the beautiful St. Mary of the Assumption. I grew up going here and attending the adjoining school. Lots of happy memories here!
Next, our Escort Cards and Table Settings!
Andrew came up with this idea, just like he did for our
Guest Book
!
Each table represented a location special to us and was identified by the location's address. The locations included the house where each of us grew up, our colleges, stadiums and other places that hold memories. The escort cards themselves were mini envelopes. I wrote each guest's name in calligraphy with the address to the special location below it. We wrote a traditional table number where a stamp would go on a letter (in case there was confusion). Once guests got to their tables there was a picture of the two of us with an explanation on the back of the photo of why the location is special. We loved putting this together and were so happy with the unique result!
We also had a non-traditional favor: we donated to
PAWS Chicago
in everyone's name and had a little business card (pictured bottom center), tucked in the napkin explaining that we adopted our cat, Teddy, from PAWS!
We also wanted to give treats to our guests, so in addition to our delicious cake, we also had a cookie table! So many treats!
I want a picture of the whole cookie table (do any of you reading this and were there have one?!?!)!
Next up are the flowers!
We thankfully did not need to decorate the church. Not only is it beautiful on its own, our wedding was also the week after Easter, so there were plenty for our day! It was so pretty!
I absolutely loved my bouquet and the flowers at the reception. The boutonnieres fell a little throughout the day, but I overall liked how they looked. The bridesmaid's bouquets were not what I imagined, but the color combo worked beautifully with their dresses, so I couldn't be too disappointed.
Our toasting flutes are one of our Something Old and one of our Something Borrowed items, used by my parents as well as my sister and brother-in-law at their weddings:
Finally, the other Something Old/Something Borrowed, which I have written about many times: the veil!
I loved wearing this veil. It has been in Andrew's family for more than 60 years and has been worn by many ladies (now including me!). We also wanted to highlight it in some way, so we had five photos in frames on our cocktail tables. I cherish these beautiful photos of Andrew's family!
Phew!
This post took me forever to put together!
Tell me what's going on with you this week!
Missed a Wedding Wednesday post? Here are the big ones:
The Music (Andrew plans to write this!)
The Send-Off
The Honeymoon
Wedding Wednesday Goodbye (Wedding Video)
All non-Instagram photos from this post are from Starling Studio (you can tell which ones they are because they are beautiful photos!!!):
website
|
Facebook
.................................................................
Have a wedding story that you want to share? Please join the linkup!
All I ask is that you grab the button, link back to me and visit the other blogs!


Please share the linkup on social, too, if you wish!
@marysue20 is the name, #WeddingWednesday is the game.

I'm joining another linkup as well!