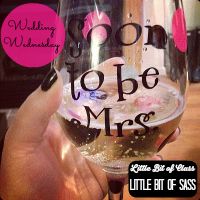 Happy Wedding Wednesday!
We still have another week or two until we have our photographer's photos, but luckily the morning of the wedding my bridesmaids took a bunch of pictures!
That morning I woke right up without an alarm. I was so excited! My sister slept next to me so I hugged her awake, then I ran into my parents room to hug them awake!
I quickly showered and got ready to meet the bridesmaids at
Shaw's
where we were all getting ready.
It was fun to know that Andrew was just two floors below us getting ready, too!
The first task was to steam the family veil.
This unbelievably gorgeous veil has been worn by more than 5 ladies in Andrew's family. It was such an honor to wear it! It was both my something old and my something borrowed!
We also framed five photos of the ladies on their wedding days wearing the veil on cocktail tables at the reception.
Andrew's mom and aunt helped to steam the veil as the rest of the girls started their hair and make-up.
Pretty ladies!
During this time I read Andrew's card to me.
We unknowingly gave each other similar cards and wrote similar things to each other.
Good thing I didn't have my make-up on yet at that point! Happy tears!
It was so fun to sit and watch my bridesmaids get their hair and make-up done as we sipped mimosas and giggled. Usually I go first when I'm a bridesmaid and I always loved watching the bride transform, so it was a little surreal to be on the other side of that.
When it was finally my turn the butterflies really started to flutter.
Would I look like how I dreamed I would?
Would Andrew like it?
Was everything going as planned?
Did I forget anything?
The mimosa and my girls helped to calm those silly nerves and I really enjoyed myself!
Then it was veil time.
It got real, friends.
Such a team effort!
Veil's on!
GAME ON!!
The gals put on their dresses and stunned me with their beauty.
I gasped and teared up. They just looked incredible.
When we got to the church I had a while before I got in my dress so I was able to spend time with my girls, a few family members and friends, and received big hugs from our Flower Girl, my niece and Goddaughter, Lizzie. She looking amazing!
Then it was show time!
But I'll let the photographer's photos tell that story :)
Here are my two favorites from getting ready:
See you next week!
.................................................................
Have a wedding story that you want to share? Please join the linkup!
All I ask is that you grab the button, link back to me and visit the other blogs!


Please share the linkup on social, too, if you wish!
@marysue20 is the name, #WeddingWednesday is the game.