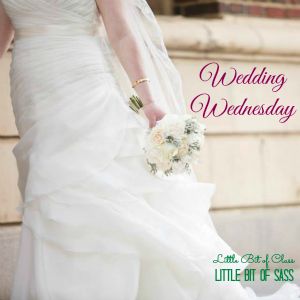 Happy Wedding Wednesday!
Judging from my three Facebook albums (yes, three) and new blog button (do you like it??), you can probably tell that we got our photos from our photographer! Tessa, from
Starling Studio
, did an incredible job telling the story of our day through her beautiful photos. I even like how I look in some of them, which is no easy feat. Basically she's a miracle worker!
Today my topic is about First Looks.
I'm a traditional gal for the most part, so I never imagined seeing Andrew before walking down the aisle. However, I absolutely understand why couples do First Looks! I'm not judging! I just personally didn't want to, and neither did Andrew.
Instead, I wanted to have special moments with friends and family, so I called those my First Looks!
First of all, I just wanted my Mom, Sister and Sister-in-Law to help me get into my dress. I didn't want a crowd and thought the photos would be really cool. I also wanted my niece to come in and see me and her mom/my sister before the craziness ensued. I loved the results!
I want to give this to Lizzie down the road when she's engaged. :)
Once we had our moments I did a reveal to the rest of the bridal party, Andrew's Mom and Andrew's Aunt. I am so happy that the
photographer
was there to capture their reactions. They were sweeter than I could have ever imagined!
Finally, I knew I wanted to see my Big Brother and Dad before walking down the aisle.
Honestly, this is when I teared up!
I'm so happy we did that before the ceremony so that I could get a few jitters and tears out of the way. All of their reactions and support made me feel pretty and confident!
What about you? Did you do a First Look of any kind? Do you plan to do one?
.................................................................
Have a wedding story that you want to share? Please join the linkup!
All I ask is that you grab the button, link back to me and visit the other blogs!


Please share the linkup on social, too, if you wish!
@marysue20 is the name, #WeddingWednesday is the game.

I'm joining another linkup as well!