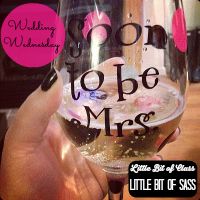 Happy Wedding Wednesday!
Don't let the title of this post fool you, I really am experiencing wedded bliss. I love being married to Andrew. He's the bacon to my eggs!
What do I mean by a "slump," then?
Well, I miss many things about wedding planning, so much so that I have found myself in a post-wedding slump - a planning withdrawal, if you will. Some of you may think I'm crazy, but hear me out.
I miss:
The anticipation
The learning
The gatherings
The conversations
The giggles
The shopping
The gift-giving (the receiving was fun, too!)
The worlds-colliding experience
Yes, even some of the stress
I miss all of it. Thanks to our long engagement we had a lot of time to dream up what we wanted and we spent a lot of effort to make the dreams become reality. Our wedding was so lovely that I didn't want it to end because I know I will never have that group of fun people all together again.
During my Dad's sweet speech to open the reception he asked everyone in the room to raise their hands if they lived out of state. A majority of hands went in the air. We think about 19 states and DC were represented at our reception...and we invited people from additional states and countries as well. Having this "destination" wedding got us thinking about how blessed we are to have so many people across so much space...but it also made us that much more sad to wave goodbye when it was all over.
(OK fine, we were excited to wave goodbye at the time since we were heading to Costa Rica, but you get my point).
I know we chose to move away from family and friends after high school (Andrew) and college (me), but it was never easy to leave the people we love. I tear up every time I wave goodbye...in fact I'm holding back tears right now. I'm pretty jealous of people who live close enough to family and dear friends that they can spend unplanned time with them. If you are one of them, please know how blessed you are!
Am I alone in this? Did any of you other new wives experience a little planning withdrawal?
................................................................
In other news, our photos are finished! We have an online password-protected gallery, but are waiting on the digital copies to share with everyone! Can't wait to show you!
.................................................................
Have a wedding story that you want to share? Please join the linkup!
All I ask is that you grab the button, link back to me and visit the other blogs!


Please share the linkup on social, too, if you wish!
@marysue20 is the name, #WeddingWednesday is the game.

I'm joining another linkup, too!