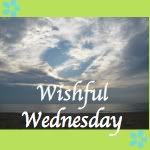 Today I am thinking and wishing about an upcoming competition. My work team decided to have a rice crispy treat bake-off next Friday. Why? Better question: why not?

The objective: make creative, tasty treats, worthy of winning the ultimate prize

The opponent: the other members of the metrics team
The judges: the content team from across the office

The ultimate prize: bragging rights and pride
Hey, that's all I need for my competitive edge to kick in. I have an idea of what I want to do, and thought that I would poll you, my lovely readers, for your opinion.

I am thinking of making the classic crispy treat, roll them into balls while they are still warm and gooey, stick them on a stick, dip them in chocolate, and sprinkle crumbled graham crackers on top of them. A Sticky Rice Crispy! The title is both literal and figurative and I like it. Style points.

Are there other ways I could up the ante? Do you have other mallow combos you'd like to share? Where does one find cake ball sticks?

In other words, I'm wishing to WIN. What are you wishing for this Wednesday??