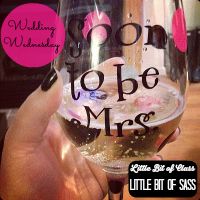 Happy Wedding Wednesday!
Time to recap the Rehearsal and Rehearsal Dinner!
It was quite an evening. SO SO SO fun having super close friends all in one room!
This post is very photo-heavy, but these photos help me relive it.
Sorry I'm not sorry! ;)
My sister is the best!
...plus our Aunt/my Godmother - she's the coolest!
Posing with a few of the groomsmen
My gorgeous sister-in-law and brother
Aren't the flowers beautiful! Definite benefit of having a wedding the week after Easter!
I will show off these beauties any chance I get!
Andrew wore his abuelo's tie. So sweet :)
All done and rehearsed! So ready!
My favorite girls in the world.
6 states and DC are represented in this photo if that tells you anything.
OK, a couple gals from Chicago (Mary and Daniela) are missing, but they couldn't be there.
Still, I treasure this photo so much!!!
Groomsmen (minus one - he couldn't be at the rehearsal for work/training purposes. He was missed!!)
Groomsmen selfie. This makes me giggle every time I see it!
Love these guys!
Now let's get to the grub!
We had our Rehearsal Dinner at
Shaw's
, a quaint restaurant and hotel in downtown Lancaster. We have many family memories here, so it was our favorite option when picking a spot for the dinner. Plus, the out-of-towners stayed there and we all got ready there the morning of the wedding!
Andrew's parents and Aunt really created a beautiful ambiance.
The lights were low, the music sweet, the food delicious, the wine divine, and the company was of course the best part!
They copied photos of Andrew and I over the years as well as some baby photos and hung them from spray-painted black branches adorned with twinkling lights. It was perfect!!
Andrew's Mom also got us cute forks and my bridesmaid, Callie (the one who orchestrated the
incredible letters!
) gave us toasting glasses!
And here's a good one of two of my best and dearest friends in the world, all living in different states and all getting married within a year of each other!
The fun just doesn't stop!!
Andrew's groomsmen gifts were cuff links of the guys' favorite baseball teams (to go along with our Save the Date theme and a couple of other things the day of!).
Andrew and Steve's cuff links aren't pictured, but they are of the Detroit Tigers.
I'll make my bridal party gifts a separate post :)
After dinner there were speeches.
My oh my were those incredible.
Not only did our parents say a few kind and sweet words, but many other people in the room also joined in! It was incredibly touching and there were many happy tears. Andrew and I also enjoyed sitting back to take it all in: I mean, we put people together at tables who didn't know each other or didn't know each other very well...and we kept hearing eruptions of laughter and fun conversations all evening. It was so special!!!
Goodness, I'm tearing up right now as I write this!
I wish I had the words to express how wonderful that night was!
OK that's all for this week!
Thank you for viewing all of these photos and reliving the day with me!
I absolutely love reminiscing about the day before the wedding.
So many things were brewing without my knowledge this day, but I'll get to that when I reveal the big surprise that took place!!!!
.................................................................
Have a wedding story that you want to share? Please join the linkup!
All I ask is that you grab the button, link back to me and visit the other blogs!


Please share the linkup on social, too, if you wish!
@marysue20 is the name, #WeddingWednesday is the game.