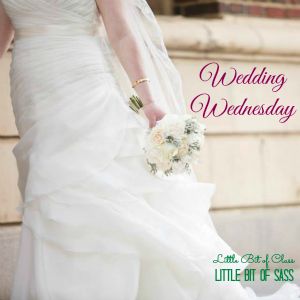 Happy Wedding Wednesday!
I am so excited to finally share the big surprise with you today!
But first, please allow me to tell you a story today.
One that starts back in 8th grade, when I first fell in love...
...in love with *NSYNC.
I was "that girl" and I am not even embarrassed about it.
4 concerts, 4 t-shirts from concerts

The wallpaper in my room was completely covered by posters, magazine pages, Internet photos and anything and everything I could gather

(My sister and I shared a room growing up, but she was in college so I completely took over!)

I entered contests

I wrote a letter to JC (yep, not even Justin. That one I am a little embarrassed about!)

I knew every song

I lost my voice screaming to their concerts, whether in person or on TV

I taped every music video from MTV and loved TRL

I HATED the Backstreet Boys (who am I kidding? I always will.)

I begged my parents to wake up early to take me to get the newest CD while on vacation

I took a four-foot cardboard cutout poster from a music store

I stole huge advertisement banners from concerts and hung them in our garage
...the list goes on...
Yep, "that girl."
Imagine my excitement, then, when "
I

t's Gonna Be Me"
starts playing during the reception!
The only difference was that I wasn't allowed to dance.
My bridesmaids took care of that for me.
I
guess
I can throw in some pictures now ;)
(All photos are from
Starling Studio
)
Here they are, looking gorgeous and adorable, getting it all started.
The crowd has formed and I try to join:
The second verse started and the groomsmen joined!
I'm cracking up at this point, mainly at my brother and at the *NSYNC 4-foot cardboard cutout board that I forgot to toss years ago. My parents found it and brought it. Here's me freaking out, trying to join the dance but Andrew's Mom is holding me back:
As the music continues tons of people join the bridal party and then when the third verse starts I finally get it: IT'S A FLASH MOB!!!!!!
In the lower left you can see my 3-year old niece doing the dance!
Then, when I didn't think I could possibly smile more, laugh harder or be more surprised, Andrew starts to sing and dance...
And then he joins and I am so shocked I can't even take it:
And then Andrew finishes the song.
"It's Gonna Be Me"
Sure is, Andrew!!
And then madness ensues! The flash mob was a total success!!!
Oh and many people posed with the cardboard poster for the rest of the reception.
Here are my parents:
So how did they pull it off?
Well, my sister (Kate) came up with the idea, and my sister-in-law (Jackie) helped!
They made a private Facebook group and invited everyone they knew who was coming to the wedding. They brought Andrew into the mix about 4-6 weeks before the wedding.
Jackie choreographed the dance, made videos and posted them on the private Facebook page with instructions so that everyone could practice the dance.
Jackie and Kate kept posting updates about how I knew nothing (I really had no idea!), a code word for the flash mob ("chicken"), how our parents found the cardboard cutout, and how "Footloose" would be the trigger song to ensure that everyone was out on the dance floor in time.
And then they waited.
Hoping that people would join.
And my oh my did they join.
Family, family friends, friends from all over the country! They all practiced.
As I put together bridal party gifts on the day before the wedding, a group practiced in our basement with the music playing on a super low volume.
After the Rehearsal Dinner a larger group stuck around and practiced once I left.
During the reception, our Under-21 party of my cousins practiced after they ate their dinner in another room before they came out for the dancing.
A number of people apparently almost spilled the beans, but yeah, I was completely oblivious!
...I'm sure there are many other stories that I don't even know yet!
Oh and about a month before the wedding my parents said we should get a videographer!
Imagine me, four weeks before the wedding, one week before starting a new job, trying to find an affordable and AVAILABLE vendor!!!!
My Mom thankfully took over and found Curt from
Curt Good Photography
and let him in on the surprise. He used two camera angles to not only record the flash mob, but also my reactions and my foolish attempts to dance along.
And here is the incredible result!!!!
Amazing, right?!?!
Whenever I'm in a bad mood or miss family I think back to the mob, and I am so thankful that I can watch it and remember the shock I felt and how overwhelmed I was. Of course this is the corniest thing to write possible, but I felt blessed, special and loved.
It was just plain awesome.
Better than awesome.
There really isn't a word to describe it.
Sigh...I really have the best family, friends, and husband a girl could ask for!
And for Pinterest/Instagram:
All photos from this post are from Starling Studio:
website
|
Facebook
Video by Curt Good/Eye on the World Productions:
Facebook
.................................................................
Have a wedding story that you want to share? Please join the linkup!
All I ask is that you grab the button, link back to me and visit the other blogs!


Please share the linkup on social, too, if you wish!
@marysue20 is the name, #WeddingWednesday is the game.

I'm joining another linkup as well!