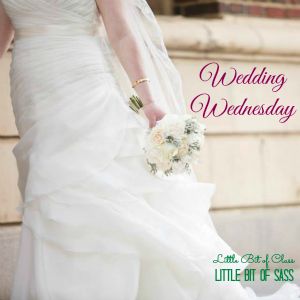 Happy Wedding Wednesday!
I know I teased a big surprise for this post last week, but I need more time.
The video isn't quite ready yet. I'm itching to share it with all of you, though!
In the meantime I'm really excited to share our guest book with you.
This was ALL Andrew's idea!
If you remember, Andrew and I are big sports fans, and our save the dates looked like tickets to a baseball game.
Well, to keep the theme going and to have something that we could enjoy forever, we got a dozen baseballs and asked for our guests to autograph them!
(Admittedly when Andrew first shared his idea, I thought he wanted guests to sign one ball EACH and that we would have 150 baseballs on our hands. #Blondemoment)
We got a dozen baseballs to fit into a shadow box that we bought from Michael's.
We borrowed a decorative stand and some pens from my parents, I wrote the sign and voila!
Best guest book EVER!!!
Guests snapped photos and shared them on our
#AndrewMarriesMary feed
, too!
We had the bridal party sign one baseball during our cocktail hour and the rest of the guests wrote on the remaining 11 baseballs. The messages were amazing, ranging from baseball-themed ("You two hit it out of the park!") to sweet and sentimental.
We could not wait to put the shadow box together and display it in our home!
It's currently by some of Andrew's Detroit Tiger's World Series memorabelia and stadium seats from Tiger's Stadium. In our future home this could go in a Fan Cave or on a gallery wall!
We are so happy with the result and look forward to rearranging the baseballs every now and then to see the different messages. It's so fun having a sentimental and unique memento of our wedding to see every day!
Andrew deserves all of the credit! Amazing idea, right?!?!
And I made a collage so I can pin this :)
Our photographer was Tessa of Starling Studio:
website
|
Facebook
.................................................................
Have a wedding story that you want to share? Please join the linkup!
All I ask is that you grab the button, link back to me and visit the other blogs!


Please share the linkup on social, too, if you wish!
@marysue20 is the name, #WeddingWednesday is the game.

I'm joining another linkup as well!