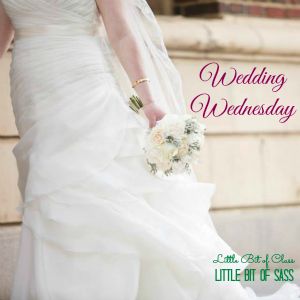 Happy Wedding Wednesday!
First of all, a very happy Wedding Week to my bff Holly! I've known this pretty lass since we were toddlers and I'm so excited to stand up next to her on Saturday as she stood up next to me in April! The happy tears will be a-flowin' for sure!!!
I'm excited to share photos from the ceremony today! Unless otherwise noted, all photos are from the brilliant Tessa at
Starling Studio
.
I'm pretty sure this next one will have to go on my blog advertising. It's perfect!
Oh would you look at that, it IS a new blog button!!
(hint: look at the right-hand side of my blog page)
All of the bridal party photos make me happy, but I'm only choosing to share this one because it's too cute with my Brother escorting my Mom down the aisle. They're so happy and look so fantastic!
OK how cute is Lizzie?
The socks! The headband! The poofy dress! The pomander ball of Baby's Breath!
Ahh her cuteness kills me!
Now it's my turn!
Da da da da...
(just kidding, we definitely did not play that song as I walked down the aisle!)
As a reminder, I decided to go traditional and have the blusher on the veil cover the front of my face. I know not many brides do that these days, but I loved thinking that Andrew would be the first person to really see me after I walk down the aisle.
Also, the veil has been in Andrew's family since the 1950s. It's been worn many ways by some incredible women. It was such an honor to wear something so special - and beautiful!!!
I love this perspective, from my friend and our wedding hashtag,
#andrewmarriesmary
:
Back to photos from
Starling Studio
:
There he is!
Love you, Dad!
Cute photos during the ceremony:
Cool architecture shot:
Vows:
(PS isn't my sister gorgeous?!?)
Another huge favorite photo: the two of us praying while one of my best friend's, Laura, beautifully sang the Ave Maria:
Mr. and Mrs.!!
Next week my post will feature photos from the church and around town!
Are you sick of me talking about the wedding yet?
Cool, me either ;)
.................................................................