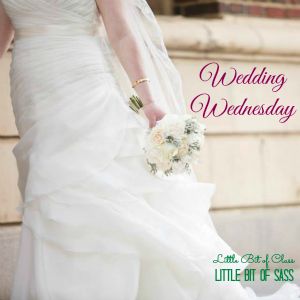 Happy Wedding Wednesday!
First of all I am THRILLED that
Kristyn
is back to join the linkup this week! She and I started this linkup and I'm so excited to read her wedding recaps now that she's a Mrs., too!
Go to her blog and watch her
wedding video
. It's so wonderful!!
This week I'm excited to share some of my favorite photos, the posed ones around my hometown of Lancaster, Ohio and outside our
reception venue in Columbus
!
All photos are from our wonderful photographer,
Tessa, from Starling Studio
!
Yep, this is another photo-heavy post.
I would apologize, but I really don't want to, to be honest.
I feel bad when people apologize for posting a large number of photos.
Who's to say how many photos is too many?
I think no one should ever apologize for posting happy photos.
Why not share the happy?
Ladies, never apologize for celebrating your happiness.
You planned it. Your wedding celebrates you marrying the love of your life. It made you and everyone around you happy. You deserve to show it off.
And if you disagree, well, you're about to scroll through a photo-heavy post.
Sorry I'm not sorry. :)
Starting off, we are in downtown Lancaster at the idyllic gazebo in the square.
I have many memories in this area of town, so I squealed a little on the inside as I danced with Andrew in the gazebo.
Talk about a dream come true!
Shocked, I tell you! Shocked!
Photos with the bridal party make me so happy.
These are our people.
7 states are represented in this photo.
How cool to have them all in one photo!
Lizzie is just so gosh darn adorable. I miss this little tike - excuse me! Big Girl! I miss her!
I seriously had the most breathtakingly beautiful bridesmaids (inside and out):
The dapper gents:
I still shake my head looking at this photo below.
She's too stinkin' cute, I almost can't handle it.
Almost.
Then we headed a mile away to Rising Park, another place in Lancaster that holds countless memories. The flowers on the trees were in bloom, the sun was shining off of the pond, and the pictures were just plain pretty:
This photo below is a favorite.
This gorgeous photo almost makes me happy that the girls' dresses look more purple than the grey that I thought they would be and that their flowers were completely different than what I wanted.
(Some day I will get over these silly details.)
Andrew is the sweetest.
This is my favorite of them all.
My incredible siblings!
After the park the bridal party took our Fun Bus (seriously, that's the name of the company) up to Columbus for the reception at
The Athletic Club
. The ride was fun as we cranked the tunes, drank some cold beverages and stuffed our faces with snacks.
The rest of the photos are near
The Athletic Club
for a more "urban" feel.
I don't look fat in this one! Yippee!
Goodness I married a handsome man.
The blue brick looked so cool against the girls' dresses!
This is a big favorite, and the final one I'll leave you with today: my parents photo-bombing!!!
Have a great week!