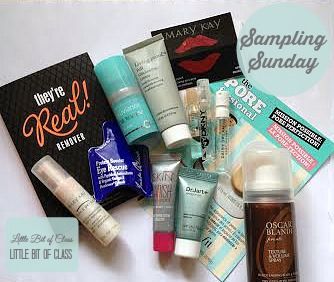 Hi there!
It was a fun sampling week! Here are the products I tried:
1
|
2
|
3
1. The
Tarte Lights, Camera, Lashes Mascara
is pretty solid. I haven't heard anything about this mascara so I thought I'd give it a try when I got it with recent Ulta purchases. However, I like it but don't love it. $20 is pretty average, but I still prefer my
CoverGirl Lash Blast
for less than half the price.
2. I seriously love lip gloss. Give me sample after sample and I am one happy girl. In fact, this
Mary Kay lip gloss
is one of many I have been lucky to try! It's a great shade to top a lipstick or wear alone. These lip glosses are typically a go-to for me.
3. This was a full-size purchase for me. You can't beat the quality of
Ulta shadow
for the price. The color is new for me and I really love how it looks. I pair this with the
Pearl shade
and dig the results. The shadow lasts all day with
my favorite eyeshadow primer
!
Weekly disclaimer:
I have a shameless selfie to share. I don't want to appear all "look at me! look at me!" but I figure that if I'm promoting beauty products I might as well show you the results. I used all three products in the photo below:
Have you tried any of the three products I listed? What do you think?
Have a good one!