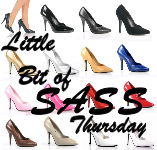 Hey sassy readers! What are you planning to do today to let your sass shine?
Two things today:
1) I have been enlightened: Megan on My Two Cents (...before I spend it!) posted earlier this week on
Essie's fall nail polish line
, and yesterday about an amazing top coat by
Sally Hansen
. Well I just so happened to spot both at my CVS stop yesterday, and my nails are so happy. The "Carry On" color looks darker on than in the bottle, but it's still very pretty and perfect for fall/winter (although I do NOT want to think about winter!!). The top coat really did dry fast! My nails never dry unless I sit absolutely still for over an hour and don't do anything strenuous after that. Now I don't have to worry about it! Sorry for the picture of my hand but I had to show you the shiny results!
2) Earlier today I was introduced to a new blog, called JandJ Home. One post was a
how-to for a DIY rug
. Andrew and I need two new rugs and since that can be expensive, I may just give this a whirl. I was thinking of creating a chevron print or a stencil of a simple pattern (
West Elm rugs
are my current inspiration). What do you think? Do you have any stories about DIY rug projects? Think it's a bad idea or a great way to save about $100?
I won't be blogging until next week, but I hope you all have a happy and safe holiday weekend! :)