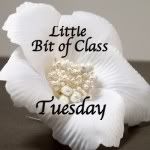 Hey everyone! I hope your week is getting off to a good start. If it isn't, then take a look at this classy eye-candy. These pics from my
Pinterest Classy Board
should help :)
This girl needs to smile - her dress deserves it!
I'll take this outfit and will raise you a picnic basket, some wine, and a picnic on Lake Michigan, thanks.
Anyone else want this clutch? It's currently calling my name for sure.
I love the ruffles of this soft bubblegum coat. Perfect for spring days!
This dress and I are currently chatting and are becoming quick friends. We may need to meet in person soon.
And finally, a pretty ballerina photo. This gal is taking her class sky high.
That's all for now! Have a great day!