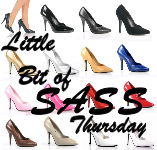 Who's gettin' their sass on this fine Thursday?
Ya heard?
I want to meet the person who is responsible for this contraption and shake his/her hand. Do you think Kate Spade would make one of these in the Larabee Dot print? No?
Yeah I could never wear this in public because I wouldn't be able to hold a conversation. I'd be too busy looking at myself in the mirror. Self-centered? Sure, but wouldn't you be in that dress?
OK who took this picture of my mom and I off of my bedroom wall from my childhood and posted it to the Internet?