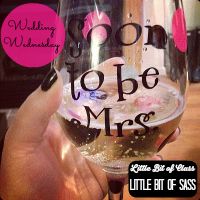 Happy Wedding Wednesday!
So a funny thing happened...
I BLINKED and we're suddenly 10 days away from The Big Day!
AHHHHH!
Just a few things are left for us to do!
Andrew thought up a SUPER cute idea for our escort cards so we're working on that, plus printing our programs and menus and doing a ton of other tiny things.
A week from today the fun starts in Ohio and I seriously cannot wait!!!!
I also make sure that I take a small amount of time each day to daydream about our upcoming honeymoon to Costa Rica. It makes this 40 degree Chicago weather bearable, that's for sure!
I haven't been able to sleep well lately, though.
So much is on my mind!
As excited as I am for everything, I've been worrying lately about stupid stuff.
I'm talking really stupid.
I'm embarrassed to share this, but...
For example, around 2:30 every morning I wake up wondering one or all of the following:
Will I forget to say "thank you" to everyone?
Will I forget something important in Chicago?
Will my hair go flat or my make-up wear off or my fake eyelashes fall off and I look like a complete fool?
Will the bridesmaids dresses look more like a light purple instead of the intended grey?
Will I sweat and smell and no one will want to hug me?
Will I say something ridiculous to someone?
Will the blog world/Pinterest world judge every little choice I made?
Will anyone talk about how I didn't lose enough weight?
Will people comment on how pale I am and wonder why I didn't at least get a spray tan?
Will I spill food or drinks on my dress?
Will I tear my dress?
Will I ruin the beautiful family veil somehow since I'm a klutz?
Will my arms actually look like I have muscles (I do have them, I swear!) or will I just look like a fat, pale, white whale?
I also worry that Andrew won't think that I look pretty.
He assures me that he always thinks that I do (awww), but gosh I hope he's not disappointed when he sees me at the end of the aisle.
That's usually my 4:00 am worry.
Then I wake up around 5:30, have a good workout, get ready for the day and smack myself in the face for being RIDICULOUS.
Yikes. I am officially accepting any kicks in the rear or public shaming. I deserve it!
Do any of you other brides have similar worries or is this just my pre-wedding stress talking?
Sigh.
I want chocolate. And wine.
Instead I will pick up some dumbbells and try to make my arms look not fat.
How are you doing this week?
.................................................................
Have a wedding story that you want to share? Please join the linkup!
All I ask is that you grab the button, link back to me and visit the other blogs!


Please share the linkup on social, too, if you wish!
@marysue20 is the name, #WeddingWednesday is the game.