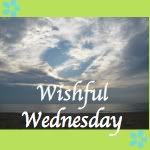 Well hello friends! What are you wishing for this Wednesday? I'm wishing for stronger knees so I can run farther*.
Also, I need to poll people...have any of you heard about the
Cinch Diet
? I watched a segment about it on Rachel Ray this morning. I kind of want to try the five day cleanse and then just stick to my Weight Watchers. Thoughts?
*Thanks to Christina from Hungry Meets Healthy for my grammar lesson!! :)