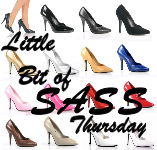 Happy Thursday! This post is three-fold: sassy, glassy, and crafty!

First, here's a sassy picture for your Thursday as all of us sassy gals dream up NYE outfits:

Second, I got new glasses! I went with the ones on the right:
Third, before December comes to a close, I had to dedicate a post to all of the projects I put together this season. I didn't have (read: make) time for Christmas cards this year, but what I lacked in doing unto others I made up for by doing unto...making my apartment pretty. And for gifts. I'm not a total brat.
If you remember, my Christmas spirit was through the roof after
Andrew and my spontaneous evening
to the Christkindl Market and show. Then my book club had a festive cookie party, where, among the many treats, I made the below Santa hat brownies inspired by a pin on Pinterest, and another lady made the cute cookies below:
Then I received the garb for my Ugly Christmas Sweater party. I love that I bought this vest from an Etsy store devoted to tacky sweaters!
Then came the glitter:
And, finally, the DIY projects.
Our tree, bought on the day of the party, decked in the same ornaments from the DC tree my roommate and I decorated together every year:

Ornaments and ribbon in a shadow box, another Pinterest-inspired project:
Ornaments in our coffee table decoration, placed there mainly because I didn't have anywhere else to put them and they were from the Target $1 bin so I had to use them:
Potpourri pine cones and ribbon in an unused flower vase:
Another Pinterest idea, putting ornaments on a curtain rod. It was Andrew's amazing idea to put it above the mantel!

Our complete mantel:
And last but not least, the coasters I made for Andrew's parents, my parents, my sister and brother-in-law, and my brother and his fiance. I got the idea from this post on
The Shine Project
: