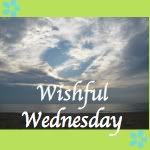 Happy Wednesday! I'm counting down to 2012, but before the ball drops I have a few posts to round out '11. I'm not wishing for anything this Wednesday. Instead, I am thankful for a very blessed Christmas. The highlight? My brilliant and fabulous 15-month old niece said my name! Right before the picture below, everyone around her was saying "Mary" or "Aunt Mary" and she copied it by saying "Mawy":

I kind of shed a small tear when I heard her say my name. And then I yelled at everyone to brag that she said my name. And yes I have a bow on my head. Jealous?
Sure Santa was glorious to me. Remember
this Wishful Wednesday post
when I drooled over this watch? Well, Santa listened!
I am incredibly thankful for the beautiful things under the tree of course, but being home to capture moments like this? Priceless.
In case you're wondering as you look at the above picture, the answer to your question is "yes." Yes, you can be blissfully entertained by a toddler going around to everyone in the room showing them where their noses are.

There are perks to living in a city and having family to visit across the country, but let me tell you: it never gets easier to say goodbye.

What are you wishing for (or thankful for?) this Wednesday? Share in the comments! :)