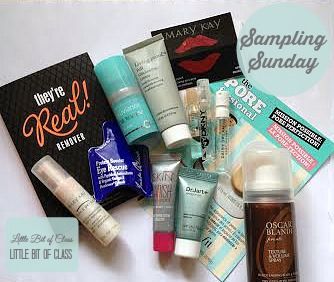 Hi there!
I thought of a new series that I will feature every Sunday.
Why?
Well, if you're an Ulta and Sephora junkie like me, you have a LOT of samples laying around...but you may have not given them a try.
I figured I might as well share my thoughts about these products, so here we are.
Here's what I tried this week:
1:
The POREfessional
is a pretty incredible product from Benefit. This is my favorite of the bunch and have been using this for a while, actually. I got some samples of it this week which is great since I'm running low! A little bit goes a long way, which is important for me considering that price tag. I really think that it does minimize the appearance of my massive pores!
2:
They're Real Push-Up Liner
is interesting. I'm not a liquid liner kinda gal, but I did have fun giving this a whirl. It is a little messy and I think I need a little more practice with it, but I do like how blue the black liner makes my eyes look:
I'm just wearing my trio of favorite eye products that are highlighted by this liner. I'm not sure I'd spend the $24 on the full size but maybe after I practice a bit more and get used to this look I could consider it.
4:
Redken Diamond Oil Shatterproof Shin
e is fun. I definitely noticed my blonde locks looking shinier when I used it this week. However, it also looked greasy if I put on the product too close to my roots. Even though it doesn't take much product to get the job done, I wouldn't spend the $40 on the full size. I like the product but not the price. Call me cheap, but I'd rather pay half as much for
Sebastian Trilliant
!
What do you think? Do you like this series? Want to join me on Sundays? I could host a link-up!
Have a good one!