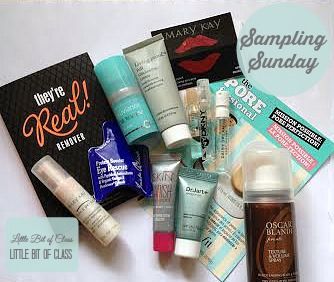 Hi there!
It was a fun sampling week! Here are the products I tried:
1
|
2
|
3
|
4
1. The
Pssssst! Dry Shampoo
is incredible! This isn't a sample for me per-say, but I had to share because I know a lot of ladies struggle with finding the right dry shampoo for them. It smells fresh and clean and works really well for me. Granted, I typically only use this about once a week since I wash my hair almost every day since I workout almost every day. Regardless, this is now my go-to for all things dirty hair. I've read a bunch of reviews so I know I'm not the only one who loves it. Oh and it's cheap. Win-win!
2. You guys. I found my
red lipstick
. I am absolutely ordering the full size. I am in LOVE with this lipstick: it's not sticky, lasts a long time, doesn't look cake-y, is reasonably priced, doesn't make my teeth look discolored and makes my eyes look really blue. After I publish this post I'm ordering it! I'm so happy my Mary Kay lady gave me this sample! When I wore it to work on Friday I definitely noticed an extra sass in my step. I just love how a little bit of lipstick can do that!
3. This is another product that I LOVE and can't wait to buy the full size. I heard about the
Tarte Amazonian Clay Foundation
from a
fellow blogger
a while back and had was curious enough to get a sample. I was shocked with how weightless it feels all while appearing full coverage and masking my
umpteen
imperfections. A little goes a long way, which is important since this is a pricey product for me. It's incredible and I highly recommend it!
4. Another sample from my Mary Kay lady: the
Mineral Cheek Color in Shy Blush
. It's a really pretty shade and lasts all day. At one of the lowest prices I've seen for good blush, I will definitely consider purchasing the full size in the future. However, I simply love my
Nars blush
in the name I won't write on my blog! ;)
I have some shameless selfies to share. I don't want to appear all "look at me! look at me!" but I figure that if I'm promoting beauty products I might as well show you the results. I used the products as numbered and labeled in the above collage.
Have you tried any of the four products I listed? What do you think?
Have a good one!