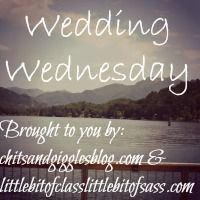 <div align="center"><a href="http://www.littlebitofclasslittlebitofsass.com/" title="Little Bit of Class Little Bit of Sass"><img src="http://i1249.photobucket.com/albums/hh513/aukris02/weddingwednesdaybutton_zps1bde4fd6.jpg" alt="Little Bit of Class Little Bit of Sass" style="border:none;" /></a></div>
Happy Wednesday everyone! It's time to link up with me and
Kristyn from Chits & Giggles
!
I have two wedding events to recap: my cousin's wedding in Pittsburgh and my best friend's couple's shower in Columbus!
But first I need to post these pictures from the wedding weekend because my niece Lizzie is too stinkin' cute and I feel like bragging.
The Friday before the wedding we took Lizzie to
Chuck E Cheese
for the first time! Her face when we walked in was priceless! She had to touch everything and wouldn't stop smiling. It was awesome!
We also took a trip to see my grandma!!! Fun fun! She's so sweet!
The next day was Kelly's wedding! Kelly is my cousin closest in age on my mom's side.
By the way, I have over 40 first cousin's on my mom's side.
When the doors opened in the church I joined the whole congregation in gasping. And then I got all misty-eyed. Kelly really was a stunning bride. I can't wait to see the professional photos!
Kelly and Corey got married in the same church, by the same priest, as her parents. The reception was also at the same place as her parents' reception! From start to finish, it was a beautiful celebration. It was wonderful to see someone I've known my entire life tie the knot. It was so special and I LOVED hanging out with my huge family all weekend. It was such a blast!
Oh! I also did my own hair. Here's my shameless plug:
Nice and messy. It was absolutely not what I intended to do for my 'do, but oh well. It was off of my neck.
Now on to this past weekend!!!
Callie and Mike's shower was incredibly fun. First of all, it was a couple's shower so there were tons of amazing people. Second, there were no traditional shower games or opening gifts which was lovely. Third, it was a bbq and two of the bridesmaids made amazing food to accompany it. Check out those cupcakes! Mini grills!!! So cute! Fourth, there were fun games to play in the yard and a bonfire with s'more favors. I should pin this party.
The picture on the left is all of the Theta Nu gals in attendance with Callie looking adorable in the middle! My parents are playing Bags (or Corn Hole, depending on what part of the country you're from) in the photo next to that, followed by baked goods and decor in the smaller images.
I loved the chill party. It was like no other shower I've attended and was made even more special because of how happy it made the bride and groom. I was so happy to be part of it and it made me that much more excited for the fun to come for the happy couple!
What's going on with your wedding events this summer? Have you attended any weddings, showers, bachelorettes or shopping or crafting adventures? Let's hear it! Please link up below!