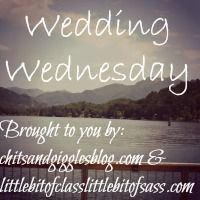 <div align="center"><a href="http://www.littlebitofclasslittlebitofsass.com/" title="Little Bit of Class Little Bit of Sass"><img src="http://i1249.photobucket.com/albums/hh513/aukris02/weddingwednesdaybutton_zps1bde4fd6.jpg" alt="Little Bit of Class Little Bit of Sass" style="border:none;" /></a></div>
Happy Wednesday everyone! It's time to link up with me and
Kristyn from Chits & Giggles
!
Be forewarned: this post has a lot of exclamation points. (!!!!!)
This week is the week where a whirlwind of super fun wedding events start!
July 28: missing a shower in Detroit, but attending another shower in the Chicago suburbs
August 3: bachelorette in Chicago
August 4: helping the bachelorette do her crafting!
August 10: another fun bachelorette in Chicago!
August 17: wedding in Chicago!
August 24: bachelorette in Cincy!
Labor Day weekend: OK no wedding stuff, but fun is in store!
September 6: wedding in Columbus!
September 7: missing the wedding in Chicago (so so so sad about this!) - but for good reason: I'm helping to plan my high school 10-year reunion in my hometown! We're also meeting our photographer that weekend!
Whew!
I am SO ready for this!
One more thing! On July 26 we hit a new milestone: 9 months away from our Big Day!!!!!
According to online check lists we have quite a bit to do this month:
Get in wedding day shape -

working out 4-5 days a week and doing Weight Watchers!

Plan reception menu -

will do this with the venue at our visit this October

Create wedding website -

almost finished! I made it myself (with a little help from my friends)! :)

Make a list of family wedding customs to possibly incorporate -

we will see what our church will allow, but there is a very special and amazing tradition that I would love to do!

Finalize wedding guest list -

this keeps me up at night...

Envision invitations and stationery -

I've envisioned, shopped, toyed with doing them myself, etc.

Set up florist appointments to discuss options -

oh I've discussed. I've discussed at length. I even made not one, but two, documents outlining what we/I want. I'm such a freak. Oh well, we will decide on a florist very soon!

Plan ceremony with officiant -

will do this with the priest at our visit this October

Start registry -

started! Can't wait to continue!

Search for ceremony musician -

oh I already know who I must have performing that day!
Wow we have some work to do, but this is so fun!

OK, all exclamation points aside, I have to finish this long post with one thought. It's so easy to get wrapped up in all of this fun planning. I know I shouldn't care what all of you think about me, but please rest assured that I make sure every day to take a step back and remember why we're doing this fun planning in the first place: Andrew and I are vowing to be together for the rest of our lives. Yes I'm really excited to celebrate and yes I'm pumped for a honeymoon and to wear my ridiculously amazing gown, but the best part is that after all of this is over, and our wedding is a memory for everyone, I get to look at Andrew as my husband and lifelong partner. God help him. ;)

Yay!!!
(I have to end with exclamation points!)