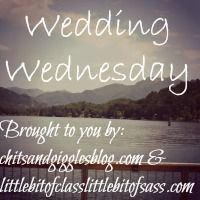 <div align="center"><a href="http://www.littlebitofclasslittlebitofsass.com/" title="Little Bit of Class Little Bit of Sass"><img src="http://i1249.photobucket.com/albums/hh513/aukris02/weddingwednesdaybutton_zps1bde4fd6.jpg" alt="Little Bit of Class Little Bit of Sass" style="border:none;" /></a></div>
Happy Wednesday everyone! It's time to link up with me and
Kristyn
from Chits & Giggles!
Please check out her blog if you haven't already!
She found her dress
! YAY!!!
While I don't have any news to share, I do have a fun topic. Andrew actually provided it when he sent me this link to a
Pinterest board
devoted to Corgis at weddings.
Do we have a Corgi?
No.
Are we getting a Corgi before our wedding?
No.
Does our church even
allow
animals?
No.
Do I want any animal, no matter how adorable, near my beautiful gown?
Heck
no.
Regardless, you have to admit this is freaking cute:
Really, animals at weddings are super cute:
OK fine. It's a little ridiculous.
Whatever.
All I know is that if our church were to ever allow animals, I know a certain Tuxedo Cat who looks very classy in a bow tie.
Just sayin'.
What do you think about animals at weddings?
Please link up with us!