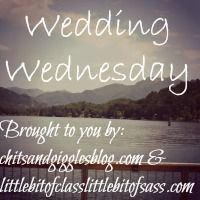 <div align="center"><a href="http://www.littlebitofclasslittlebitofsass.com/" title="Little Bit of Class Little Bit of Sass"><img src="http://i1249.photobucket.com/albums/hh513/aukris02/weddingwednesdaybutton_zps1bde4fd6.jpg" alt="Little Bit of Class Little Bit of Sass" style="border:none;" /></a></div>
Happy Wednesday everyone! It's time to link up with me and
Kristyn from Chits & Giggles
!
My Bridesmaids know me so well. So well, in fact, that they know how to surprise me and put a smile on my face. One of them in particular did just that today.
Let me back up.
My Bridesmaid Megan found out my love of the Steelers early on in our friendship. The first year of grad school was also the first year Andrew and I dated. Andrew and I met at the Steelers bar in DC and Megan, therefore, heard all about that during the fall. That Christmas, Andrew surprised me with tickets to my first Steelers game in Pittsburgh! It was amazing!!! I was so shocked! What a gift!!!!!
So of course I had to brag about this awesome gift.
I chose to do so at our grad school program's holiday party.
A group of us (including Megan) had had a few free cocktails and were chatting, exchanging stories about our week. We all had drinks in our hands in small and cheap plastic cups. When I told all of them about my gift, I described the envelope Andrew gave me containing the tickets and the whole experience with gusto. I ended my dramatic diatribe by saying, "Andrew got me STEELERS TICKETS!!!!!" and accidentally smashed the cup in my hands, causing the contents to drip down my hand and onto the floor. Ooops.
Needless to say, STEELERS TICKETS became a saying in our little group whenever we were excited about something.
Throughout grad school, Megan also accompanied me to the Steelers bar even though she strongly dislikes (borderline hates) the Steelers. She watched the Super Bowl with me, too (yes, the one where we lost to Green Bay. Ugh.). She always understood when I chose to watch the games on Sundays (and Monday nights) instead of do nerdy grad school work...usually because she was watching football, too.
Fast-forward to
Andrew's proposal
and she was partly responsible for the awesome Steelers jersey I saw when I walked into the bar! Oh and thanks to that jersey she now receives a weekly email from the Steelers.
And today, yet again, Megan surprised me!
A few days ago she texted me a picture of a FedEx slip, addressed to me. It's not my Birthday and I didn't do anything worthy of gifts.
I was intrigued!
Today I walked into the kitchen to see a giant box on the island.
Opening it made me even more curious.
What on Earth could it be?? She said she got me something small!
AHHH! It's from the Steelers!!!!!
Members of the Steelers said congrats to ME!!! AHHHH!
I immediately called her for the details.
Apparently Megan has a friend who volunteers for the Big Brothers/Big Sisters in Tallahassee.
Well it just so happens that four members of the Steelers volunteer there, too!
Megan asked her friend to get their signatures and send it to her in DC.
She wrote the cute note, framed it in a beautiful frame, and sent it to me!
Isn't this the most amazing and thoughtful gift?!?!
I just love Megan!
Here are the players:
#22: William Gay
#23: DeMarcus Van Dyke
#28: Cortez Allen
#31: Curtis Brown
YAY!!!!
Teddy appreciated the packaging as well and took his toy mouse in there with him:
I have other wedding things to share, but this was definitely the most fun.
How's your week going?
---