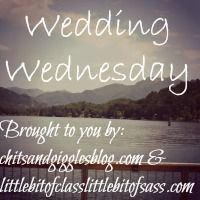 <div align="center"><a href="http://www.littlebitofclasslittlebitofsass.com/" title="Little Bit of Class Little Bit of Sass"><img src="http://i1249.photobucket.com/albums/hh513/aukris02/weddingwednesdaybutton_zps1bde4fd6.jpg" alt="Little Bit of Class Little Bit of Sass" style="border:none;" /></a></div>
Happy Wednesday everyone! It's time to link up with me and
Kristyn
from Chits & Giggles!
I have so much to write about but have had no time or energy to do so!
I plan to do a full recap of this past weekend: my cousin Kelly got married in Pittsburgh! She was such a stunning bride! We had the best time celebrating and hanging out with family. I want to go back!
For today's post I only have one thing to share:
One of my very best life-long friends (and one of my bridesmaids!) got engaged last night!!!!!!!
Congrats to Holly and Mike! I can't wait for all of the fun in store for them!!!!
Luckily I'm going home this weekend for Callie's wedding shower, so not only do I get to see Callie and have fun with her wedding event, I also get to see Holly while I'm there to hug her in person! Yay!!!!
Have a great day, everyone!