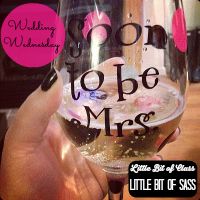 Happy Wedding Wednesday!
First of all, I wish the happiest of birthdays to my sister and Matron of Honor!
Love you, Kate!!!
Now on to this week's post!!
A long time ago
I wrote about bridesmaid gifts, but did not divulge what I had up my sleeve just yet. For those of you who have been around for a while, you will recall that I started gathering gifts for my girls about six months before the actual wedding. After being in 7 weddings myself I had a good idea of what I wanted to give them...but knew that I could not afford it all at once.
I had to start early, which made it that much more fun!
I also didn't want to blatantly ask them detailed questions to potentially give away what gifts I could get them.
Instead, I emailed all of them a series of random questions, relevant or not, just for fun.
The girls loved it and their answers were awesome!
Here they are, in case you want to do the same! I of course added some sassy remarks in brackets.
What is your favorite color?
Long walk on the beach or snuggle by the fire?
Cat or dog?
What is your favorite movie?
Go-to cocktail? [it's OK if it's beer. You know I'm all about my Guinness.]

What is your favorite memory from the 90s?
NSYNC or Backstreet? [It's OK to lie to me if your truth is the WRONG answer]
What is your favorite food?
What is your middle name?
If you could travel anywhere - right this second! - where would you go? [For example, my head tells me to travel back home and go back to bed, whereas the flannel shirt I'm wearing says that I should go for a hike and eat s'mores. Mmmm...s'mores...]

What is your favorite candy?
In terms of jewelry, do you prefer to go dainty and simple or make a statement?
What is your favorite sports team?
Polka dots or stripes?
Would you say that you have more of a trendy or preppy style?
Do you have a favorite pizza? [Trust me, I know it's hard to choose. Feel free to take your time on this one.]
What is your shoe size?
Guilty pleasure TV show?
Guilty pleasure song/artist to sing in the car? [Back in the day when I drove a bunch mine was Jessica Simpson "With You" and Mandy Moore "Candy". Judge away. I deserve it.]

What is your fitted t-shirt size?
How do you take your coffee?
What would you do with 15 minutes of fame?
Do you have a quote that you live by? [It can be funny or real. Mine is "Go big or go home," for example.]

What is your favorite thing to do on a Friday night?
What is your favorite thing to cook or bake?
What song(s) make you crazy dance?
Are you smiling right now?
It was so fun to read their answers!
It really helped to put together the best gifts I could imagine for them.
Considering how much they did for me, though, it certainly wasn't enough!
First of all, I knew I wanted to take care of their hair do's the day of the wedding.
That is always one of my favorite gifts as a bridesmaid!
So that was one thing! My parents helped with this one because they wanted to thank my girls for everything they did to make the day so special for me.
Check!
Here's the rest!
First of all, typical bridesmaid gifts contain footwear and jewelry, so I knew right away that I wanted to give them those.
I got Old Navy flip flops in wedding colors at the end of the season for an incredible deal.
I tied them up with ribbon in different wedding colors.
Done. Easy. Sure flip flops are cheap and not too classy, but their dresses were long and no one would see their feet anyway.
Jewelry, though?
That can be tough.
Luckily I found a dream deal with this

Etsy shop

. They were able to get me a set of necklaces with matching earrings! I looooved how they looked with the dresses!
They came in little bags, though, so I knew the presentation needed a little something.
So I consulted my pal, Etsy, and voila!

Personalized gift boxes

!!
After that, though, I got a little more creative.
I wanted to use my (amateur) calligraphy skills and write out their favorite quotes. The best part was that none of them remembered telling me their favorite quotes in the email so they were very surprised when they opened the gifts!!
I got the frames at Hobby Lobby and wrote out the quotes on card stock.
I purposely got small frames, that way they can tuck them in little nooks around their homes to read from time to time.
Next I got a little monogram crazy.
I had to reach out! She answered my monogram prayers!
(Seriously, it was really hard to find someone to monogram scarves!)
Emily DEFINITELY delivered! I have waited so long to reveal this!!!
I bought the scarves on Amazon and she embroidered them with each girls' monogram in plum!
(And one for me, too, with my new monogram!!!)
Since the wedding was in April, you never know if it will be chilly weather or not.
Hence, the girls could wear the scarves if they got cold the day of the wedding.
Didn't Emily do a beautiful job?!?!
The girls loved them and the mint color looked so pretty on all of them!

Finally, and you get a peek in the image above, I needed some way to wrap the gifts, so I used a knot sale and bought monogrammed bags for the girls (and one for myself - I told you I went a little crazy!)
I also had four other best friends heavily involved in the ceremony and I wanted to do something for them, too.
I got them the same monogrammed bag from the knot and I put a dual photo frame in it.
One photo was a recent picture of me and the gal. The other frame had the following in the frame:
This way I will send them a professional photo from the photographer of the two of us to put in the other side of the frame!
All of the gals loved it!
I wish I could have given them more since they really contributed so much!
Finally, we had to thank our beautiful Flower Girl!
I did not take a photo of her gift, but we got her one of the bags the other girls got (only it said "Lizzie" and didn't have a monogram). We also got her a personalized teddy bear in wedding colors from

this Etsy shop

!
We also gave her some flower stickers :)
She loved her bear!
That's about it!
I loved giving my girls their gifts, but like I said, it wasn't nearly enough.
I hope to use the rest of the bridesmaids' answers in future holiday and birthday gifts.
hehehe :)
Next week I HOPE to start recapping the wedding!
I am GOING CRAZY waiting on the videos and photos!!!!


.................................................................




Have a wedding story that you want to share? Please join the linkup!
All I ask is that you grab the button, link back to me and visit the other blogs!



Please share the linkup on social, too, if you wish!
@marysue20 is the name, #WeddingWednesday is the game.