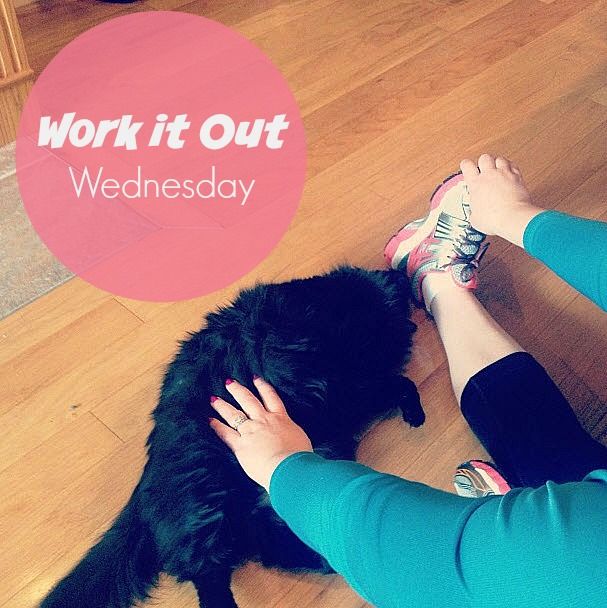 Hi gang!
Thank you so much for the positive feedback last week when I launched this
weekly series
. It gave me the extra boost to keep it going! If you ever have ideas for me, I'm all ears!
Let's get started, shall we?
First of all, I tried another Pinterest workout this week! I'm stacking them up like crazy on my
Motivation Pinterest Board
, so I will have plenty to share in the coming weeks.
(But again, please keep in mind
what I said last time
about my lack of official qualifications!)
Here's the workout I tried this week:
Gang. This is AWESOME.
How I made it harder
: I added dumbbells to the squats for a little extra kick in the rear.
How I modified
: as much as I pride myself in doing pushups without going on my knees, I unfortunately had to do that for this circuit.
New goal
: 50 pushups in a row, no stopping, not on my knees!!! Who's with me?!?
Overall impression
: Killer! And it was over in no time - maybe 20ish minutes? It was great!
Sweat-factor
: On a scale from 1-10, (10 meaning that I look like I just got out of the shower) I was a 10 for sure!
How I felt when it was over
: Fantastic and happily sore!
Would I do it again?
Of course! How else will I meet that new goal of mine?!? :)
Weekly recipe:
We have been craving pork chops lately and consulted our absolute favorite food website,
skinny taste.com
, for ideas. This recipe popped up and our mouths started to water. We will be making this in the next week for sure!
Did any of you try the recipe from
last week
? It's one of our favorites!
Weekly wellness motivation:
Weekly wellness sass:
Have a good one!