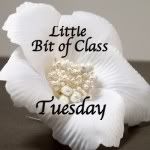 Happy First Day of Spring, everyone! The weather in Chicago consists of record-breaking highs in the high 70s and low 80s. It's usually in the 40s and 50s this time of year, so I am embracing the sunshine while we have it. As a Midwestern gal, I know it can be in the 80s one day and the 30s the next, so I'm outside whenever possible.
Today I thought I would share some spring-inspired classy looks, c/o my
pinterest classy board
.
Let's talk about how simple, elegant and classic this look is, shall we? This outfit makes me want to go to a garden party, sip tea, throw on a floppy hat and cheer on a horse race (Pretty Woman style, of course.)

This outfit is too cute for words. Picnic, anyone?

Oh Jackie O., such a classic fashion icon. I love everything about that look.

"Florals? For Spring? Groundbreaking." haha I couldn't help throwing in a
Devil Wears Prada quote
, but seriously I love this dress. However, IMHO this model looks too sassy for the dress. I would pair this with simple and pretty make-up, pearls, curls, and a sweet clutch for Easter Mass.
And, finally, how could I pass up an image that epitomizes the title of my blog? Classy AND sassy China tea cups? Sign me up!