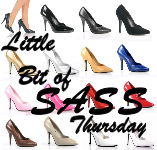 One day closer to the weekend! Goodness I can barely stand it! Weekend me!
OK so I need to thank
pinterest
and the people I follow for providing many a sassy pin for me this week. Please enjoy and send me links to your sassy pins!!
I just plain need that skirt. I don't want it. It's what my closet has been asking for, and gosh darn it I hate to disappoint.

Where was this pin around Valentine's Day? I know a certain someone who would have appreciated this! OK two. Andrew would have loved it, too. ;)

I'm going to wager that nearly every notebook in junior high at good old St. Mary's sported lines and lines and lines making the S. Why did we do this all the time? Boredom?

Last but certainly not least, this would have been clutch at Otterbein. It was a dry campus and my computer bag got really heavy from sneaking in boxes of wine. Hi Mom!!!
See you tomorrow for the Friday's Fancies link-up on
Long Distance Loving
!!