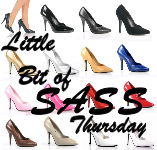 Hi everyone!
Crazy work week = no time to post or comment on my favorite blogs (sorry!) = sad Mary.
I'll catch up this weekend. For now, here are a few sassy pictures for your Thursday.
This broad is rockin' the red. It's pretty sass-tastic.
High five! Not gonna lie, if I could jump I would totally do this.
Well played indeed.