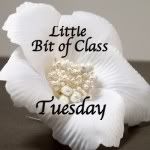 Happy Tuesday!
I don't know about you, but I sure find it difficult to keep it classy in the heat. When the heat index peaks over 100 degrees my sweat index reaches 100%, especially on my walk to work.
I mean, this is what I think I look like as I walk:
Buuuut in this heat I actually look like this by the time I get to work:
How are you keeping it classy on hot days like this?