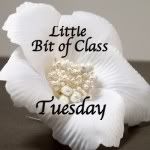 Tell me all of you understand this: I am dreading today because I know I won't be home and showered from the gym until at least 8 pm. It makes me tired and wanting the couch + Andrew + Teddy even more. Gosh I'm lazy.

Anyway, I'll try to be classy today, too.

Today's post consists of a few of my recent inspirational pins, from fashion to photos, to home decor. Classic looks always calm me for some reason and I just love to get lost in these looks.


The preppiness oozing from this ensemble makes me want to look through a Ralph Lauren catalogue.
Black & White & Jackie O all over.
I can't think of a more sophisticated way to organize all of my junk.
I doubt this will ever happen, but I really do love how clean this looks
Ugh. Girl crush.
I want to wear this with red, red lipstick!
And last, but certainly not least: