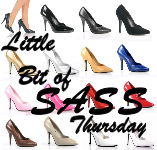 Can I get a quick Amen that it's almost the weekend?
Now it's time for some sass.
This post is a little different than usual, but sassy nonetheless.

Today I want to talk about Oktoberfest and late night snacking.

First of all, we had great intentions of attending the

St. Alphonsas Oktoberfest

, but the lines were too long and the cover too high (I mean, if I don't get anything for my $10 besides long beer and restroom lines then no thanks. AmIright?!?!).

We strolled down the street to my new favorite bar,

Prost

, instead.



Long story short, our friend Jim drank out of a boot and then we danced on the makeshift dance floor to Whitney Houston with a paddle.

Yeah the bar went from traditional German to a 90s bar after 10 pm.

And I LIKED it.

Prost is also a Steelers bar, so between that and the delicious beer, it's a guarantee that I will be back. And soon.

Anyway...

I have a late night snack to share with all of you. It's as random as it is effective.

No, it isn't healthy per se. BUT it's not a slice of greasy pizza, it's tasty, it doesn't require cooking, it's super cheap, and can be found at your neighborhood grocer or 7eleven.

Lunchables.

Yes, that

nostalgic lunchtime "meal"

that we all begged our parents to buy us when we were tikes can now be used to soak up the night's multiple suds.



Don't believe me? Think I'm totally weird?


(Don't answer that last one.)



Think about it: they're cheap, they have protein, you don't have to wait to cook it/nuke it, and they won't make you hate your life when you wake up in the morning. It's a great and not-as-bad-for-you-as-greasy-food way to fill up before you pass out.

This is a tried and true method tested for the past year on multiple occasions by yours truly

(including this past Saturday post-Prost)

.
It's basically scientific.

So there you have it.
Still doubtful?
Give it a shot this weekend and report your findings.