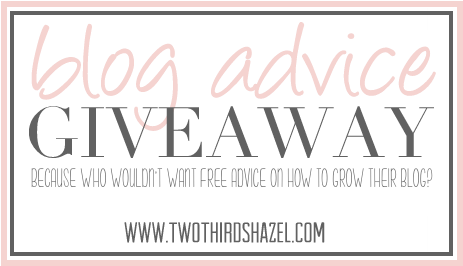 OK gang, I'm writing this post for a reason I have never done before: I entered a crazy amazing giveaway hosted by some of my favorite bloggers. I want to win so badly that I'm not only blogging on a Saturday, I'm writing solely because it's a requirement to win.
The prize? Blog advice.
While I truly love Little Bit of Class Little Bit of Sass, I am always so self-conscious about how I'm doing. It's hard not to be when my Google Reader/Bloglovin' accounts are full of beautiful blogs with amazing content and design. I don't advertise and only sponsor a few blogs. I can't afford to do too many giveaways and this blog is too small to attract brands to sponsor/offer their products on here.
At the same time, though, I really love this space and am not sure I'm willing to devote some of my content to just gaining more Followers and traffic. I started this blog to keep in touch with my friends from home but I feel some pressure to be like other bloggers out there.
So yeah. I'm torn.
And if I won this amazing giveaway and could pick the brains of some of the best in the blogosphere, then hopefully I can gain some knowledge for my blog in return.
Who knows?
I guess I'll find out! Fingers crossed!