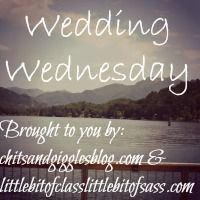 <div align="center"><a href="http://www.chitsandgigglesblog.com/" title="Chits and Giggles"><img src="http://i1249.photobucket.com/albums/hh513/aukris02/weddingwednesdaybutton_zps1bde4fd6.jpg" alt="Chits and Giggles" style="border:none;" /></a></div>
Welcome to the
Wedding Wednesday
link-up hosted by yours truly and Kristyn from
Chits & Giggles
!
Link-up below, ladies!
Remember, you don't have to be a bride-to-be to participate! We want to hear any (and every!) wedding story you have!
On to this week's post!
I just got back from an amazing trip in New Orleans, so I'm going to keep this nice and short by recapping the wedding we attended. I'll recap the rest of the trip on Thursday!
First of all, I was a thrifty wedding guest. I did my own hair and make-up, reused a bridesmaid dress, and rented a necklace from
Rent the Runway
.
I loved wearing this nifty necklace.
By the way, if you're interested in my experience with
Rent the Runway
or how I did my hair, let me know. I had a couple questions on
Instagram
and may just write up posts about both topics. I never review stuff or do my hair, let alone talk about how I style it when I do, so I feel like a narcissist right now.
Back to the wedding!
The wedding was Saturday at the gorgeous
Elms Mansion
in the New Orleans Garden District. It is such a charming location!
I loved when a street car passed during the ceremony and all of the passengers cheered for the bride and groom!
I didn't take enough photos of this beautiful venue, mainly because my pictures don't do it justice.
We had a lovely time celebrating Andrew's cousin's wedding and are so excited for the happy couple!!!
Have you attended any weddings yet this "season," especially now since it's June?
Please link up!