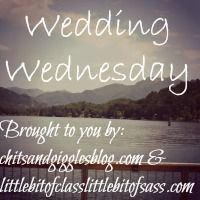 <div align="center"><a href="http://www.chitsandgigglesblog.com/" title="Chits and Giggles"><img src="http://i1249.photobucket.com/albums/hh513/aukris02/weddingwednesdaybutton_zps1bde4fd6.jpg" alt="Chits and Giggles" style="border:none;" /></a></div>
Welcome to the
Wedding Wednesday
link-up hosted by yours truly and Kristyn from
Chits & Giggles
!
Link-up below, ladies!
Remember, you don't have to be a bride-to-be to participate! We want to hear any (and every!) wedding story you have!
Last week
I mentioned that I created a document to send to potential florists. Since we will be interviewing them over the phone, I thought a visual aid would, you know,
aid
the conversation.
Curious? Scroll through the PDF below!
What do you think?
Do you have any tips for when I interview the potential florists? I plan on speaking with 7!