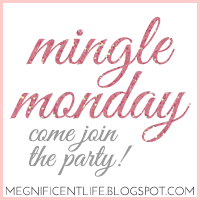 What a weekend!
I'm linking up with

Sami

,

Leeann

, and

Meg

!
This weekend was so fun!
Friday was what every Friday should be: pizza and TV with Andrew and Teddy. I basically raced home after work to put on my sweatpants and chill.
Saturday I had a lovely run around my neighborhood and then got ready for

Maureen's

bachelorette!
Here are a few pictures from our day/night:
As much as I love them, pedicures always kill me!
Maureen loves Scrabble, and her bridesmaid Lauren made these for all of us! I love that mine is my future last initial! :)
Me and the bride-to-be!
It was such a fun group of hilarious ladies! We had a blast!
Lauren and I stayed with Maureen and her sister to help with the crafting the following day!
Maureen made us a delicious quiche with mimosas to kick of the crafting in the right way (and provide me with a little hair of the dog!)
The rest of the day we crafted! Ampersands and Scrabble and M&Ms! Oh my!
But that wasn't alllll I did yesterday!
I also chatted with Holly (and accepted being her bridesmaid next July!!!!!) and gushed about her planning - and bachelorette in Chicago! Woo!
In addition, I created Callie's bachelorette invites for her fun night out in Cincy in a couple of weeks!
Then I spoke with my parents and Andrew - and we chose our florist!
BOOM. Wedding overload.
Just kidding. I loved every second of it! Yay weddings! haha :)
How was your weekend?