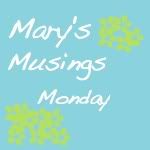 Here I am!
The duds:
Blue button-up: ages ago from Value City c/o New York & Co.
Sequin tank: Express around the holidays
Blazer: years ago from Ann Taylor Outlet
Jean: Gap - love the wide-leg trouser. This pair is thunder thighs-friendly.
Boots: Nordstrom five years ago
Necklace: J.Crew Outlet years ago
Earrings: Francesca's - it's a blessing and a curse that it is on my street.
Watch: You know it's my dream watch from Santa! :)
Can you tell I get pieces that I can wear for years? Promise me you'll tell me if anything is outdated! Admittedly the gal's getup from pinterest is so much cuter, but alas I did what I could do with what I've had for at least five years. I wasn't sure about a sequin tank as a layering piece, but I felt cute and got so many compliments on the outfit that I think I should rock it again! Thoughts?

I hope all of your weeks are starting off well! Are you going to rock pink, red, both or neither tomorrow?