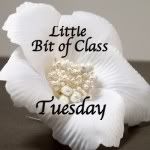 Here's a little class for your Tuesday:
This classic bedroom design is simple yet refined (and uncluttered!). I would feel so relaxed in this space! I'm not so sure I need three straw hats (in the same color), though.
I love this look.
This swimsuit is both sassy with the deep V and classy with the colors and bow. I like to dream that I could rock this with my pale skin...and in my dream I'd be a size 4...aww, aren't dreams fun??
Pure words of wisdom, Ms. Head.