First of all, Happy Birthday Andrew!!!!!!
Now let's add some sass to our step today.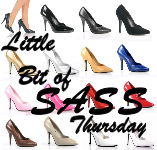 Let's kick it off with fashion for the ladies and the fellas:
Why didn't I think of this?
I love everything about this look.
I really want to try this.
Now for the fun stuff:
Well that's a new twist.
Talk to the paw.
And last, but certainly not least: