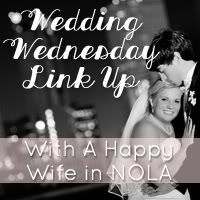 Yay for Wednesday! I'm so excited to link up with Mary and Joelle again this week!

I wasn't quite sure of what to write about this week.
We're still nailing some details down before I broadcast any news/share pictures.

Luckily, Andrew had a great idea.

Have you ever heard of The Engagement Series on YouTube?

It's seriously hysterical.

Admittedly, some of the videos have foul language. (Sorry, Mom! Love you!)

Here's one of the best, but I highly suggest watching all of them!

We do pro/con lists, too.

Also...I'm not going to lie, I kind of want some napkin rings.