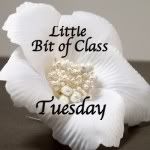 So I realized that I did not have anything devoted to the title of my blog. Silly me. So with a little brainstorming and messing around on Aviary, voila! Buttons and weekly themes were born.
I tend to think that life is fun courtesy of combining two traits that just so happen to rhyme: class and sass. The class aspect, to me, is sort of like the invitation to the party, whereas the sass? Well the sass is what you bring to the party. Get what I mean? The sass makes you YOU. However, the sass has its time and place. When you understand the balance you exude class. So, it is only proper to post something classy and something sassy each week in addition to my normal posts as a way to show some balance in this crazy world of ours. Thanks to
my pintrest
I can easily accomplish this task. Whether the posts feature fashion, figureheads, food, or items for the home, I aim to present you with an image each Tuesday and Thursday to brighten your day and help you see that you can be both classy and sassy. Here's my first classy picture. Oh how simplistic designs and crisp colors portray elegance.
You stay classy, PLANET EARTH. :)