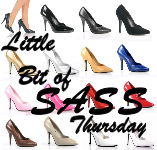 Hey there sassy friends! So I'm a little late on the posting but oh well. Yesterday I added some sass to my pearls with leopard print flats. Great pairing, don't you think? How did you add a touch of personality to your day?
Here's a sasstastic picture from my
pinterest board
. This little lass knows what I'm talking about! Have a good one!