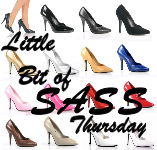 It's about high time I gave away some stuff, amIright?

I wanted to host a giveaway to say "Thank You" to all of my Readers, especially since I recently surpassed 100 GFC Followers! Crazy!

I'm calling this my Classy/Sassy Giveaway.

Let's start with the class:

I LOVE what Michelle does with her illustrations, and lucky for one of you, you get one of these batches of cards!



Each card has a gorgeous gal in a fabulous outfit struttin' her stuff. Each card is different. I.Love.Them.!!!

Next up, the sassy!

My good friend, Becca, has an Etsy shop selling these super cute and super sassy hair ties. She graciously offered some of her Bexbandz for the lucky winner! These are so fun!



Who's in???

a Rafflecopter giveaway
I will announce the winner on Little Bit of Class Tuesday, November 19!