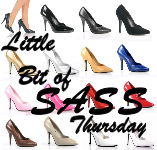 So very happy it's Thursday, aka my favorite blogging day!
Let's sass it up!
Kate does not look impressed.
Gosh I love me some well-timed photos.
While we're on the subject:
...and:

Now for two things I really want:

Sure, anybody can put wine in a box, but champs in a water cooler? Brilliant.


Two pins that had some fun with words:

And now, my favorite for the week:

Have a good one!