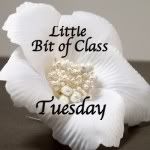 It's that time of week again for a barrage of classy images for some inspiration!
Let's kick it off with this gorgeous manicure. Have any of you tried the matte polishes? I'd love to give it a whirl.
Tulips wrapped and tied? Yes, please!
Prep-tastic!
I love the classic look with the sassy scarf. It makes me excited for early Fall!
Love this LBD...and I never thought I'd swoon over peplum!
And finally, a quick nod to my style crush:
Love her, love the dress, love it.
Stay classy!